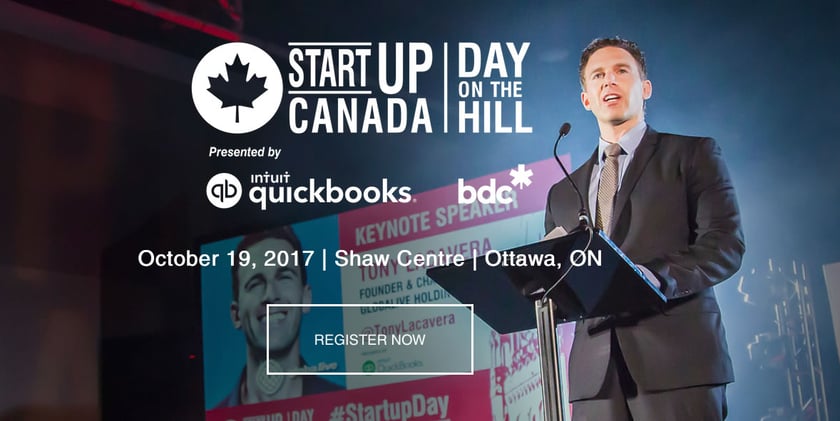 Startup Canada Day on the Hill is the largest annual national entrepreneurship event convening more than 1,100 leading entrepreneurs, innovators, investors, industry executives, and government representatives annually to raise the bar for Canada as a globally competitive innovation nation.

If you are considering attending this year, here are 10 reasons why you'll find #STARTUPDAY exciting, inspirational and helpful. With the event less than a month away, now is the time to make travel arrangements to Ottawa and purchase your tickets (EventBrite).
10 REASONS TO ATTEND #STARTUPDAY ON OCTOBER 19
THE EXPERIENCE: Startup Canada Day on the Hill is Canada's largest entrepreneurship event this year!
MENTORSHIP: Sit down with Canada's leaders in the #StartupDay Mentor Genius Lounge

.

NETWORK WITH CANADA'S LEADING ENTREPRENEURS: Tap into Canada's entrepreneur networks.
HAVE A DIRECT VOICE TO GOVERNMENT: Apply an entrepreneurial lens to policy at the Policy Hack-a-thon Stage

.

PITCH TO DRAGONS & WIN BIG: You have 5 opportunities

to gain mentors, partners, customers, cash prizes, investments and exposure.

ATTEND THE GROWTH FAIR: The #StartupDay Growth Fair

hosts companies like Intuit QuickBooks, BDC, Mastercard, Lockheed Martin Canada.

HEAR FORWARD-THINKING KEYNOTES: You'll hear cutting-edge keynotes from forward-thinking entrepreneurs
LEARN SCALE UP STRATEGIES: The Scale-up Stage

, presented by UPS in partnership with Startupfest and Founder Institute, is the place to be for up-and-coming entrepreneurs.

MEET INVESTORS Do you know what investors are looking for when you pitch your startup? Find out at #StartupDay.
AWARDS GRAND FINALE: Attend a red carpet event

celebrating Canada's leading entrepreneurs and businesses.

ABOUT #STARTUPDAY
Startup Canada Day on the Hill is brought to you in part by BDC, the Business Development Bank of Canada and Intuit Canada in celebration of BDC Small Business Week™. It is hosted by the Minister of Small Business and Tourism, Bardish Chagger, and proudly supported by UPS, Mastercard, Canadian Bankers Association, Lockheed Martin, CPAC, BCIP, BMO, VIA Rail, Rogers Communications, Best Western, CEDEC, and Futurpreneur.

Follow along the hashtag #SBW2017 and #StartupDay for live updates. Startup Canada Day on the Hill is the feature event for BDC Small Business Week™.

Details:
October 19th, 2017
Shaw Centre
55 Colonel By Drive, Ottawa, ON K1N 9J2
Purchase Tickets