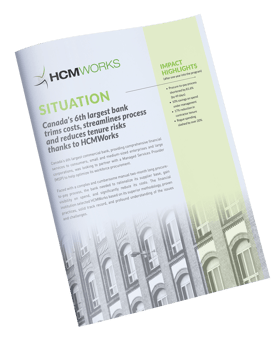 In this new HCMWorks case study, Canada's 6th largest financial institution was faced with a complex and cumbersome manual two-month long procure-to-pay process. The bank needed to rationalize its supplier base, gain visibility on spend, and significantly reduce its costs.
The financial institution selected HCMWorks based on its superior methodology, solid track record, proven practices and profound understanding of the issues and challenges.
In this case study you can take a deeper look at the challenges faced by the bank, and how HCMWorks was able to analyze current processes, create clear objectives, and implement an MSP to achieve these objectives.
HCMWorks used a multi-phased implementation process covering the identification of business requirements, VMS platform selection and integration, as well as critical areas linked to company-wide deployment and adoption by all stakeholders including communication and training.
In this case-study, learn how HCMWorks was able to:
Shorten the procure-to-pay process time by 81.6%

Deliver 10% in savings of spend under management, resulting in millions of dollars in savings year after year

Mitigate misclassification risks

Increase compliance to tenure policies

Reduce contractor tenure by 17%

Slash rogue spending by over 20%
After one year into the implementation of the program, the bank has been able to increase compliance to tenure policies, decrease the use of non-approved vendors and decrease the hourly bill rate by an average of $10 per hour.
By downloading this case-study you will not only gain useful insight into HCMWorks' implementation steps, but you will also learn about the incredible and measurable benefits of adopting an MSP.
HCMWorks is engaged by a variety of clients, in different industry sectors, implementing Managed Services Programs that cut costs, streamlines processes, and reduce tenure risks. This case study is an example of one of those successful programs.
About HCMWorks
We are a contingent workforce service provider helping organizations gain better access to talent through the use of independent contractors, consultants, temporary workers, freelancers and other non-payrolled employees. We provide the expertise, the technology, and processes to help you reduce your workforce costs, mitigate against misclassification and co-employment risks, and increase the efficiency and timeliness of your contingent recruitment process. Read more about what our clients say here.