The 2015 Staffing Industry Analysts: Contingent Workforce Strategies Summit North America was held at the end of October in Dallas, Texas. Though the conference was chock-full of various strategy sessions, important discourse, and innovative ideas to move modern employment forward, one of the main focuses at the event was an issue that's been around since contingent workforce solutions began. That being the relationship between hiring managers and managed service providers (MSPs), according to the social, digital, and content marketing news site Business2Community.com.
Workforce Management
'An end-to-end workforce management program is a complex ecosystem of symbiotic partners that must depend on one another to succeed,' wrote Len April, a serial entrepreneur and expert on MSP programs. 'Organizational leaders can focus on core areas of their businesses only when MSPs and hiring managers operate in concert.'
Opposition
Hiring managers have long been identified as one of the most likely group of candidates to oppose or resist the move to MSPs as a means for contingent workforce solutions. In 2013 DCR Workforce found that hiring managers admitted to utilizing means outside the designated program to establish their own relationships and staffing suppliers.
The main reason given by them was a lack in confidence. After more analysis they discovered that other teams working on procurement solutions or HR in general were in a sense competing for ownership of the contingent workforce solutions. In short, hiring managers felt they were being overshadowed.
Growing Contingent Workforce
These issues are significant as 40.4% of the U.S. workforce is now made up of contingent workers, according to a new report from the U.S. Government Accountability Office. Additionally, 90% of firms utilize some type of freelance or contracted talent. These types of workers are easier to hire through MSPs in many cases, considering the average company will spend $3,500 on recruiting alone for every candidate if they do it themselves.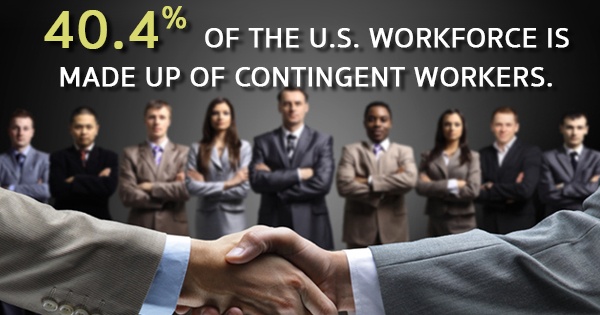 When it comes to getting hiring managers to buy into the program, much can be attributed to the simple fact that most people don't like change.
'Perceived loss of control, the inability of MSPs to understand their department's unique requirements, and the uncertainty of implementing new processes and suppliers,' wrote April.
While these are all things common in many organizations, it's important to work through them early and often to ensure your company is successful and not doing things to hinder it internally.